Trick-or-Treat inside?
For real?
Yes, for real! When Covid19 threatened to cancel Halloween, we didn't say, "Boo, hoo!" we said, "No thank you, 2020!" and cooked up a witchy plan to bring
trick-or-treating to your table.
Play Trick-or-Treat is currently only available as a download & print game.
The idea was hatched on September 21st, so there simply was not enough time to produce a physical product in time for Halloween. We're not sorcerers.
We hope this game ushers a little FALLoween whimsy into your home.

HAPPY TRICK-or-TREATING!

~Audrey & Creedance
Play Trick-or-Treat—
a print & play board game
Play Trick-or-Treat™ is a printable PDF board game set. You bring the candy and the die, we'll bring the puns—I mean fun.

Are you brave enough to roll the die and venture out into the haunted neighborhood where a flip of a card could determine your fate?
Will you get a sweet TREAT or a
spell-binding TRICK?
If luck is on your side, you'll be the first trick-or-treater to reach the haunted house where the Graveyard ghosts are waiting to scare the lemonade out of you. But don't worry, they'll share their candy too.
Let the
ghoul times roll!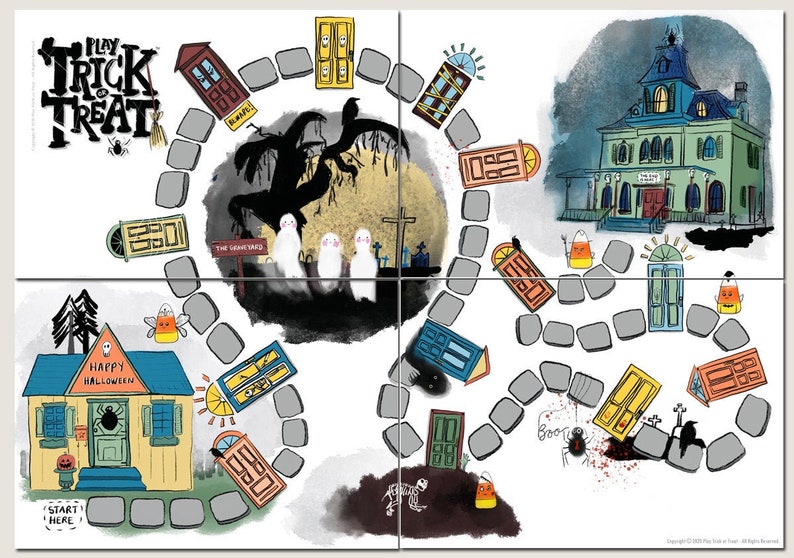 Printable Board game set includes 13 spooky pages (as well as optional pages):
1. Play Trick-or-Treat Game Board
4 pages (cut & tape)
2. 60 Trick & Treat Game Cards
9 pages (just cut)
3. Optional: Rules, Blank Cards (make-your-own), and Logo Page for double-sided cards.
Copyright © 2020 Play Trick or Treat – All Rights Reserved.